People need to know that most breast cancer is now curable. In this video, Cathy Cole, a nurse navigator with Los Robles Hospital and Medical Center, says that this wasn't the case 30 years ago.
There are many tumor-related factors that play a role in the behavior of breast cancer (and all cancers, for that matter), and in the response of breast cancer to various available treatments. However, some of these factors appear to be of much greater importance than others.
Clinically important tumor-related factors include the size of the tumor in the breast, whether or not the breast cancer cells are sensitive (or resistant) to the female sex hormones estrogen and progesterone, the grade of the tumor (i.e., how "aggressive" the tumor looks under the microscope), and whether or not there are extra copies of a gene known as HER-2/neu. Also, the margin of normal breast tissue that is present on the surface of the tumor, following surgical removal of the tumor, is an important factor in terms of the risk of recurrence of cancer within the same breast.
There are other important staging factors that are also used to try and estimate the risk of cancer recurrence, and to determine the best possible treatment for each patient's breast cancer. One of the most important of these factors is whether or not breast cancer cells have already spread to the armpit (axillary) lymph nodes, or to other organs outside of the breast.
Robert A. Wascher, MD, FACS
Author, "A Cancer Prevention Guide for the Human Race"
http://doctorwascher.com


Ideally, your medical specialist will explain the location of the tumor within the breast both clinically and on imaging, and if removed then it is crucial to know and understand the T stage of the tumor which describes size and factors specific to the tumor. This will help understand treatment plans and the prognosis.
Knowing where your cancer is located and its size helps make the diagnosis more tangible. Ask your doctor to point out the location of your tumor on the X-ray. Also ask your doctor to draw your tumor's size and shape on a piece of paper for you to take home. Most cancer diagnoses are given in centimeters, which may not make much sense to Americans, who are used to measurements in inches.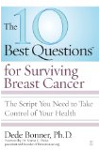 Continue Learning about Living With Breast Cancer