Emotions don't cause asthma. But strong emotional reactions like laughing, crying and sighing may trigger symptoms, especially if your asthma isn't under control. Family- and job-related stresses can bring on asthma symptoms in adults. In children, asthma symptoms may be triggered by a divorce, a death in the family or even the start of a new school year.
Living with a chronic condition that impairs lung function, like asthma, can be stressful. And although stress and anxiety don't cause asthma, they may make symptoms worse. So it's best to have a few stress-reduction strategies in your back pocket that you can use any time. Here are three to try:
Reduce stress with breathing exercises.
Unwind with progressive muscle relaxation.
Destress by sleeping soundly.
Self-management of asthma can be challenging, and depression has been identified as one factor which may decrease the effectiveness of asthma self-management and compliance: patients with chronic disease and depression are three times more likely to be noncompliant with medical treatment than non-depressed patients.
Studies suggest a possible "feedback loop" between asthma and depression. Depression experienced by people with asthma may be as much as the result of having asthma, as it is the cause of it, and this bi-directional association may lead to a continual cycle resulting in ever-worsening physical and mental health.
It is hoped that by treating depression in asthma, the negative effects of the co-existence can be minimized. While treating depression may increase adherence to medical treatment and more effective asthma self-management, and even decrease asthma-related mortality, treating depression is likely to dramatically improve quality of life.
Additionally, the influence of emotional states on pulmonary functioning in asthma has been studied extensively. Findings indicate that airways are reactive to psychological states and this is corroborated by personal retrospective accounts that suggest that changes in emotional states result in asthma exacerbations.
In many patients, treatment for a mental disorder can create an improvement in their overall medical condition, contributing to a better quality of life and allow the person to adhere to treatment plans, life-style changes and physical limitations.
Emotional stress has long been linked to asthma. Traditional Chinese medicine recognizes a connection between the lungs and grief, a linkage borne out by modern psychology. Recent studies have found greater anxiety and depression among asthma patients than other people, including those who suffer from a number of other chronic diseases.
With apologies to people with food allergies, there's a chicken-or-egg element to this discussion. Namely, do asthma patients have anxiety and depression because of their asthma, or do anxiety and depression predispose them to asthma symptoms? It may be a combination.
Undoubtedly, shortness of breath and heavy wheezing can be pretty anxiety producing. Conversely, intense emotions can also precipitate asthma symptoms. Respiratory resistance, airway reactivity, shortness of breath and decreased peak expiratory flow rate have all been shown to occur after an emotional challenge.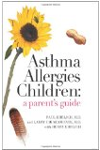 More About this Book
Asthma Allergies Children: A Parent's Guide
Asthma and allergies are at epidemic proportions. It doesn't have to be that way. Two experienced pediatric allergists tell everything a conscientious parent needs to know about these conditions,...
Stress can cause asthma exacerbations through acid reflux, which can trigger an asthma attack; therefore, stress reduction techniques are key to reducing the risk. Watch as pulmonologist Brian Gelbman, MD, discusses the impact of stress on asthma.
Stress is a common trigger for asthma symptoms, including shortness of breath, anxiety or outright panic. Several studies have shown that stress can worsen asthma, and some findings have suggested that chronic stress among parents could elevate the risk of their children developing asthma.
People with persistent asthma have symptoms more than once a week, but not constantly. If stress becomes a daily occurrence, however, those symptoms can grow out of control. If long-term asthma medication no longer works well, and wheezing and other symptoms occur too often, a harmful circle can begin to take place in which anxiety or stress worsens asthma—and the asthma worsens the anxiety or stress.