Moisten your fingers first when you pick up and hold eggs. Place eggs in an empty egg carton when carrying them from the refrigerator to a work area or take the whole carton from the refrigerator to the counter while you work. Beating eggs is easier if you use a wire whisk or pastry blender, or, break the eggs into a jar, screw the lid on tightly and shake.
Separate eggs with a small kitchen funnel placed over a measuring cup. Break the egg into the funnel; the white will slip neatly and easily into the measuring cup, while the yolk stays in the funnel. You can also purchase an egg separator, designed to fit over a standard measuring cup. If you do not have either:
Crack eggs on the rim of an empty bowl, the thinner the rim the better. If pieces of the shell fall into the bowl, retrieve them by using a larger piece of the eggshell to scoop under the broken piece; the piece will be attracted to the shell and you can scoop it out easily.
For those with limited fine motor control, hold the egg about 10 or 12 inches above an empty bowl and drop it; the egg will break in two, making the shell easy to remove.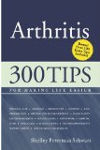 More About this Book
Arthritis
Arthritis: 300 Tips for Making Life Easier is a compendium of tips, techniques, and life-task shortcuts all learned from personal experience. Author Shelley Peterman Schwarz has lived with a chronic...
Continue Learning about Living With Arthritis