Here are some tips for lighting and light switches that may help you if you have arthritis.
Replace traditional light switches with rocker-panel switches that require less fine motor control. They can be turned on or off by pressing with an arm, elbow or palm of the hand. Both lighted and unlighted versions may be found at hardware and home-building supply stores.
Control light levels with dimmer switches. So that one person may work or read without disturbing others, install an easy-glide, sliding dimmer switch that will allow you to adjust the light levels in a room. They install easily in place of your regular light switch and can be purchased at most hardware and home-building supply stores.
Replace hard-to-reach switches with a switch in the cord. If you have trouble reaching the power switch under the shade of a table lamp, purchase a new lamp with the switch on the power cord or, if you're handy, splice an on/off switch into the cord that plugs into the wall.
Install a lamp switch enlarger to make turning lamps on and off easier. This large, three-sided knob slips over or replaces your regular switch.
Add a touch-sensitive converter to lamps. Lamps are easier to turn on and off if you install a lamp converter, which fits into the socket and bypasses the on-off switch, making the lamp "touch-sensitive." To install a converter, remove the lightbulb and insert the converter into the socket, then replace the lightbulb. When you screw in a three-way lightbulb, the light gets brighter with each successive touch and then finally turns off. These are available from many lighting and discount department stores.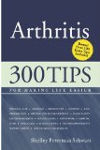 More About this Book
Arthritis
Arthritis: 300 Tips for Making Life Easier is a compendium of tips, techniques, and life-task shortcuts all learned from personal experience. Author Shelley Peterman Schwarz has lived with a chronic...
Continue Learning about Living With Arthritis