If you have arthritis, you can utilize easy-to-use containers like these:
Put detergent into a small, plastic pitcher that is easier for you to pick up and pour than a heavy box of laundry or dishwasher detergent.
Pump bottles make dispensing easier. Everything from moisturizing lotion and liquid soap to ketchup and salad dressing will dispense more easily in a pump bottle -- no tops to unscrew or heavy bottles to lift.
Reuse empty liquid soap or lotion bottles or buy empty bottles at discount or bathroom supply stores.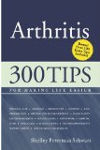 More About this Book
Arthritis
Arthritis: 300 Tips for Making Life Easier is a compendium of tips, techniques, and life-task shortcuts all learned from personal experience. Author Shelley Peterman Schwarz has lived with a chronic...
Continue Learning about Living With Arthritis