Computer equipment
Use a notebook (laptop) computer because they are smaller, lightweight and portable, allowing you to work in a position that is most comfortable for you, even if that changes frequently. Newer computers even come with touch-screen technology built in, so you do not have to make as many keystrokes or mouse movements. Find your most comfortable position on a desk, table or in your lap or work on an adjustable surface like a drafting table or ironing board. If you choose to work with the computer in your lap, be sure to use a lapboard or notebook desk, a stable platform to set your computer on so it does not overheat and burn your legs. Some platforms are raised, and you can adjust the angle of the platform to give you even more comfort options.
Investigate ergonomically designed products that will make working at your computer most comfortable for you. Visit a full-service computer store to learn about and test drive ergonomic keyboards, mice, pens and other devices.
Computer settings and software
Use the accessibility features on your computer. If sore joints in your fingers and hands or tremors make it difficult to type, the accessibility features built into your computer can make life easier. Check your computer help files for information on accessibility options and learn how to adjust the speed of mouse clicks, key strokes and the pointer; increase the size of the font or the color contrast of the display; and activate warning sounds to make your computer easier to use. For people with the use of only one hand, sticky keys allow you to press one key after the other (Ctrl/Alt/Delete) to respond as if you pressed them at the same time.
You can also program your computer to avoid repetitive stress injuries. Working on a computer can be very hard on the joints, especially the neck, shoulders and hands. Program your computer to remind you to take breaks regularly. Software programs are available that will remind you to take a break and provide you with helpful exercises to avoid joint injury.
You can improve your posture by using a large font (18- to 24-point) when creating or reading a document on the computer. This will help you sit up straighter, reducing pain and helping you read your document more easily.
If your joints are really sore and writing and typing have become a chore, or you simply want to reduce the wear and tear of typing, voice-recognition software can open new doors of communication. Once you train the program to recognize your speech, you can speak into a microphone and the computer will type your words with up to 99 percent accuracy—faster than you could type them. You can also send e-mail, instant messages and surf the web just by speaking into a microphone.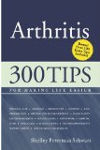 More About this Book
Arthritis
Arthritis: 300 Tips for Making Life Easier is a compendium of tips, techniques, and life-task shortcuts all learned from personal experience. Author Shelley Peterman Schwarz has lived with a chronic...
Continue Learning about Living With Arthritis