You will be more comfortable in bed if you choose the right bedding for your needs.
Look for bed covers that provide warmth without weight.
Knitted sheets are easier to put on the mattress because the corners stretch more easily than woven sheets.
Satin sheets or nylon or silk pajamas help you slide and turn over more easily. Do not wear slippery pajamas on slippery sheets, however, or you may be so slippery that you fall out of bed.
Avoid undue weight or pressure on your feet and toes. If the bedding pressing on your feet and toes is painful or uncomfortable, try making a simple footboard from a piece of wood or use a cardboard box. Place the wooden board or box at the end of the bed and drape the covers over it. The covers will lie across the footboard without touching your feet and toes. You can also purchase aluminum rails that will keep the covers off your feet. Ask about these at home health or bedding stores.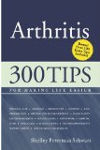 More About this Book
Arthritis
Arthritis: 300 Tips for Making Life Easier is a compendium of tips, techniques, and life-task shortcuts all learned from personal experience. Author Shelley Peterman Schwarz has lived with a chronic...
Continue Learning about Living With Arthritis