Look good without a lot of effort. When choosing clothing, keep the following easy dressing tips in mind:
Wear lightweight fabrics. Garments made from heavyweight fabrics may actually tire you out just putting them on. Purchase lighter-weight clothing and wear layers under a jacket or sweater for added warmth.
Select wool garments lined with a satiny fabric so they pull on and off easier. If you have unlined slacks, purchase lightweight silk or nylon pant liners to wear underneath.
Nylon underwear makes pulling pants up and down easier than wearing cotton underwear.
Clothing that opens in the front is easier to put on and take off than garments that open in the back. Partially button shirts and then slip them over your head. If you struggle to get buttons through a buttonhole, make the buttonhole slightly larger by slipping an emery board into the opening and sliding it back and forth the length of the buttonhole a few times. If you choose clothing that pulls over your head, make sure it has enough stretch to make it easy to get on and off.
Zippers are easier to use than buttons. When fingers are stiff and uncooperative, however, it can be hard to grasp small zipper pulls. If you struggle with zipper pulls, attach a key ring, charm or large cushioned zipper pull that you can grasp with your whole hand. You will find large zipper pulls in luggage departments; these are more appropriate for
outdoor jackets, luggage and purses however.
Wear clothing with elastic waistbands. Avoid zippers and buttons altogether by wearing elastic-fit pants in stretchy fabrics that are easy to pull up and down.
Choose clothing one size larger. Clothing that is too tight may actually make you feel tired. If you purchase garments one size larger than you normally wear, clothing will go on and off easier and be more comfortable to sit in. Queen-size pantyhose are easier to pull up and down than regular sizes.
Wear shawls instead of coats. Unless the weather is terribly cold or inclement, consider wearing a shawl instead of a coat if the pain and stiffness in your hands and shoulders makes it difficult to button, zip or put your arm in sleeves.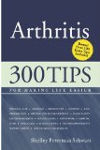 More About this Book
Arthritis
Arthritis: 300 Tips for Making Life Easier is a compendium of tips, techniques, and life-task shortcuts all learned from personal experience. Author Shelley Peterman Schwarz has lived with a chronic...
Continue Learning about Living With Arthritis