Here are some tips for making it easier to store and use tools if you have arthritis.
Store tools on a pegboard and use a marking pen to outline the space for each tool. Tools are at eye level, easy to reach and you can tell at a glance if a tool is missing.
Purchase a foam kneeling pad (check the garden section) to cushion your knees or use a partially filled hot water bottle to kneel on when washing floors or working in the garden.
Create a soft-grip on tool handles by wrapping with foam pipe insulation. Foam tubing is available in a variety of diameters. It's slit on one side so it's easy to install on the handles of household and outdoor tools like brooms, shovels, rakes and mops. For indoor tools, keep the tubing in place with rubber bands or duct tape. For outdoor tools, wrap the handles with brightly colored electrical tape, so the tools are easier to find in the grass. You can find foam tubing at most hardware stores.
Add ergonomic handles to long-handled home and garden tools. Make it easier to grip and use brooms, shovels, rakes and other tools without pain by adding ergonomic D- and T-grips midway up long handles. Ask about them at hardware, garden or home improvement stores.
Keep nails handy when you're doing odd jobs around the house. Wind a rubber band around the handle of your hammer close to the head and slip a few nails under the band, where they will be within easy reach when you need them.
Mark the wall with moisture, to hang a picture and get in the right spot the first time. Mark the spot on the wall with a moistened finger or sponge. Then, quickly hammer the nail in place before the area dries.
Use a magnetic screwdriver to help you hold screws in place. Touch the screw to the tool, and the magnetic field will hold it in place as you work -- much easier than gripping a tiny screw and controlling the screwdriver at the same time. Be sure to keep magnetic tools away from your home computer and electronic media or your data may be scrambled.
Use forearms for lifting heavy items. If you must lift and move large, unwieldy or heavy items, lifting straps will help you to lift and carry with less stress on your body. Available at hardware or moving stores.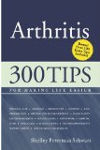 More About this Book
Arthritis
Arthritis: 300 Tips for Making Life Easier is a compendium of tips, techniques, and life-task shortcuts all learned from personal experience. Author Shelley Peterman Schwarz has lived with a chronic...
Continue Learning about Living With Arthritis