Concentrate on the important things. Conserve your energy for the things that are most important to you, and delegate or even forget the rest. Spending quality time with your family is more important than having a perfectly clean house or manicured lawn. Choose clothing that does not need ironing; get an easy care haircut; and use pre-cut, washed or prepared items to shortcut meal preparation. Make choices to enhance your life and well-being instead of worrying about the details.

Prioritize chores into categories like "must be done," "should be done" and "nice to get done." Begin each day by tackling the "must be done" items, taking short breaks between them if necessary. Less important tasks and jobs can be assigned to family members or moved to another day.

Use online, telephone, mail-order and delivery services as much as possible. You can shop when it is convenient for you and not worry about running out of energy.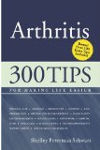 More About this Book
Arthritis
Arthritis: 300 Tips for Making Life Easier is a compendium of tips, techniques, and life-task shortcuts all learned from personal experience. Author Shelley Peterman Schwarz has lived with a chronic...
Continue Learning about Living With Arthritis