Here are some ways to keep the fun of board games in your life even if you have arthritis.
Adapt game board pieces for easier handling. If you have trouble handling game pieces, try substituting larger items like Lego blocks, empty plastic pill bottles, chess pieces or little plastic finger puppets. To adapt cardboard game pieces that are too thin and unstable to pick up or set down easily, glue an extra piece of cardboard on the bottom to make the base slightly larger.
Place game boards on a lazy Susan. If you have arthritis, a revolving game board may make it easier to join in the fun. Purchase a lazy Susan turntable from a kitchen department or cabinet shop and place the game board on top; the board can easily be turned to meet each player's reach. If the game board is still too far for a comfortable reach, place an easy-to-grasp-and slide placemat, cookie sheet or cutting board under the turntable and slide it closer when it's time to make your move.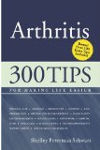 More About this Book
Arthritis
Arthritis: 300 Tips for Making Life Easier is a compendium of tips, techniques, and life-task shortcuts all learned from personal experience. Author Shelley Peterman Schwarz has lived with a chronic...
Continue Learning about Living With Arthritis