Make your washer and dryer easier to use. If you have trouble bending to get clothes in and out of the dryer, have the dryer raised to a comfortable height (perhaps six to eight inches higher) by setting it on top of wooden blocks or special risers available at hardware stores. Keep a reacher nearby for moving clothes from the washer to the dryer or from the dryer to the laundry basket; it will also come in handy if any clothes fall to the floor. Also, use a wheeled laundry cart instead of carrying regular laundry baskets.
Use a sheet of fabric softener to clean the lint trap in your washer or dryer. The treated sheets attract the lint, making it easier to remove; use the old sheet from the previous load.
Machine-wash small or delicate items in a pillowcase that you close with a rubber band. The clothes won't get snagged, and you won't have to reach deep inside the washing machine to find individual garments.
Here are some tips to reduce sorting and folding laundry.
Purchase inexpensive sock sorters (little colored rings you push the end of the sock through) and have your family use them before putting socks in the laundry basket; when socks are washed and dried, they will already be sorted and ready for the sock drawer. If you prefer, you can pin the socks together.
Maintain separate hampers for dark and light clothes. Encourage family members to pre-sort their laundry by providing separate baskets or hampers for light and dark clothes.
Give yourself permission to not fold underwear. Underwear is not seen, nor does it wrinkle in a way that prevents wearing; save energy and just toss them into the drawer unfolded.
Keep laundered bedding together by first folding the pillowcases and bottom sheet and putting them aside. Then fold the top sheet lengthwise and, when you're almost finished, put the pillowcases and bottom sheet inside, enveloping them in the top sheet. When you're ready to change the bed, all the sheets are in one compact package.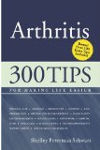 More About this Book
Arthritis
Arthritis: 300 Tips for Making Life Easier is a compendium of tips, techniques, and life-task shortcuts all learned from personal experience. Author Shelley Peterman Schwarz has lived with a chronic...
Continue Learning about Living With Arthritis