Avoid setting up a full-size ironing board for small jobs. Purchase a mini ironing board that you can set on a table or other surface set at the right height for you. Or, make one out of a piece of plywood -- approximately 12 by 24 inches in size. Lay a towel over the board, cover with a pillowcase and you are ready to iron collars, shirt fronts and other small jobs. Keep your mini board in a convenient place in the laundry room for quick access and no cleanup.

Or, you can purchase clothing that is either wrinkle-resistant or looks good wrinkled. If you have shirts or clothing that really must be pressed, take them to your local laundry. They will do the heavy work for you at a nominal fee.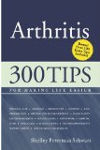 More About this Book
Arthritis
Arthritis: 300 Tips for Making Life Easier is a compendium of tips, techniques, and life-task shortcuts all learned from personal experience. Author Shelley Peterman Schwarz has lived with a chronic...
Continue Learning about Living With Arthritis