Here are some dressing tips and aids that may help you if you have arthritis:
Each night, select your clothing for the next day. This will not only save time and energy in the morning, but if you need assistance with buttons or zippers, you will be able to enlist the aid of a family member before he leaves the house.
Choose what you wear based on the day's activities. If you plan on swimming, for example, choose an easy-on, easy-off outfit with few buttons, zippers or ties. If you will be traveling, wear something that is a little looser, in a slippery fabric that makes it easier for you to change positions or get in and out of an upholstered seat.
Sit on the bed or in a sturdy chair with armrests when you dress. If your balance is unsteady, you may also want to sit when you do your hair, shave or apply makeup.
Dress in front of a mirror. Seeing as you are doing can help uncooperative fingers do their work, and you are less likely to miss any buttons.
Alleviate the discomfort of bra straps with silicone cushions. If wearing a bra aggravates or causes pain in your neck, shoulders or arms, silicone bra strap cushions may help. The three-and-a-half-inch–long, hypoallergenic cushions slip nearly invisibly under straps, distributing weight more evenly while holding bra straps in place more securely. You may find these cushions helpful to redistribute the weight of your purse or keep shoulder straps from slipping off nylon outerwear.
Use a dressing stick. If you have pain in your shoulder, a dressing stick will extend your reach and may help you to pull on shirts and jackets without discomfort. Make your own using the hook end of a wire hanger or screw a small cup hook into the end of a dowel.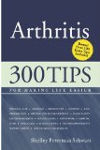 More About this Book
Arthritis
Arthritis: 300 Tips for Making Life Easier is a compendium of tips, techniques, and life-task shortcuts all learned from personal experience. Author Shelley Peterman Schwarz has lived with a chronic...
Continue Learning about Living With Arthritis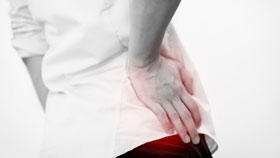 When living with arthritis, daily activities like opening doors, climbing stairs and even getting out of bed can be difficult and painful due to joint inflammation. Exercise reduces pain and disability, partly because it stimulate...
s the production of synovial fluid that lubricates the joints. Regular daily exercise also helps maintain a healthy weight and improve overall muscle tone and balance, both which lessen strain on the joints.
More