Kitchen tools have come a long way in the last few years in becoming simpler, more specialized and, most importantly for someone with arthritis, more ergonomically designed to work with your body and cause less pain. If the tools in your kitchen have been around awhile, consider some of the following:
Ergonomically designed knives lessen the strain on your hands and allow you to use your entire arm when cutting foods. Look for a knife with a large handle that allows you to "saw" back and forth when cutting.
Use a pastry blender to mix foods or stir and separate ground meat. Its large, thick handle makes it easier to use than a fork or mixing spoon.
Create a lower work surface to use while seated by setting a cutting board or cookie sheet over an open drawer at the height that works for you.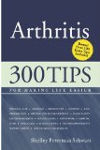 More About this Book
Arthritis
Arthritis: 300 Tips for Making Life Easier is a compendium of tips, techniques, and life-task shortcuts all learned from personal experience. Author Shelley Peterman Schwarz has lived with a chronic...
Continue Learning about Living With Arthritis