Here are some tips for traveling by car if you have arthritis.
Stay warm when traveling with electric car blanket. For extra warmth when traveling on a cold winter's day, plug a specially designed electric car blanket into your vehicle's power port or cigarette lighter. Look in automotive or discount department stores for a high-quality fleece blanket, large enough for two people, and a power cord long enough to reach the back seat.
Try a sheepskin seat belt cover. If you find wearing a seat belt uncomfortable due to sensitive skin or body pain, a genuine sheepskin cover will cushion the pressure of the belt against your neck and chest and make driving or riding more comfortable. Available in automotive sections.
Support your legs and back on long trips. To reduce leg and back pain on long-distance drives or commutes, Drivease, a simple but effective ergonomic device, can really add to your comfort. Position the firm, flexible support under your right leg to aid circulation and support the sciatic nerve and lower back, helping you to maintain a comfortable driving posture.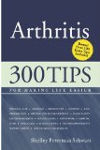 More About this Book
Arthritis
Arthritis: 300 Tips for Making Life Easier is a compendium of tips, techniques, and life-task shortcuts all learned from personal experience. Author Shelley Peterman Schwarz has lived with a chronic...
Continue Learning about Living With Arthritis