Keep a small basket near the stairs to hold items that need to be taken to rooms on a different floor of a multilevel house. You can collect the items throughout the day and easily carry them all at once. Specialty catalogs offer special baskets designed just for stairs.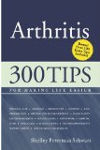 More About this Book
Arthritis
Arthritis: 300 Tips for Making Life Easier is a compendium of tips, techniques, and life-task shortcuts all learned from personal experience. Author Shelley Peterman Schwarz has lived with a chronic...
Continue Learning about Living With Arthritis