Exercise can be a part of a comprehensive arthritis treatment program. It can help strengthen the muscles around your joints and maintain bone strength. Keeping your muscles and surrounding tissue strong is crucial to maintaining support for your bones and helping take stress off of your joints. Lack of exercise can actually make your joints more painful and stiff. It is always a good idea to discuss any exercise regimen with your physician.
For those with osteoarthritis in the spine, exercise is the most important part of treatment. If started slowly with only a few repetitions at first and then gradually increasing as you are able, exercise will increase your muscle strength to give the spine more support. Exercise also increases the flexibility of the spine and the muscles around the spine so you can move easily and smoothly.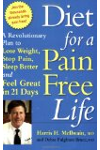 More About this Book
Diet for a Pain-Free Life: A Revolutionary Plan to Lose Weight, Stop Pain, Sleep Better and Feel Great in 21 Days
Do you wake up each morning aching with joint or muscle pain? Have you been trying to lose stubborn belly fat for years? Do you wish you could be active without pain medications? Look no further: Diet for a Pain-Free Life is the simple-to-follow, doctor-designed solution to improve your health. Leading rheumatologist, Dr. Harris McIlwain shares his revolutionary prescriptions in this first proven lifestyle plan that will help you drop pounds and decrease pain at the same time. Losing just 10 pounds can reduce chronic pain by as much as 90 percent. Learn the secrets of how to: Eat Well and Lose Weight with the Pain-Free Diet—even if you've never been able to succeed on a diet before Exercise Your Pain Away—even if you dislike traditional exercise, or if your pain makes movement difficult Stop the Stress-Pain Connection—even if you're overworked and easily stressed Improve the Quality of Your Sleep—even if you suffer from insomnia or other sleep conditions Those who have followed Dr. McIlwain's program have been able to resume the activities they love and transform their lives in as few as 21 days—now you can too.
Stiff, painful joints can make the idea of exercising seem pretty unappealing. But if you develop osteoarthritis, the last thing you want to do is become glued to the sofa. Regular physical activity can reduce your pain levels and help you maintain mobility. Your workout plan should include the following elements:
Stretching, to help maintain the flexibility of your joints
Aerobic exercise, which builds endurance and burns calories
Strength training, because toned muscles protect the joints
If you haven't exercised in years, check with your doctor first before hitting the gym.
In people living with osteoarthritis, joint range of motion may be inhibited by pain, swelling, osteophytes and irregular and/or rough joint surfaces. This may cause difficulty in exercising. Malformed or worn down joints could prevent some exercise due to pain, tightened musculature around the joints and surrounding support structures.
Strength training exercise recommendations: It may be possible to correct dysfunctions in the body by implementing corrective exercise including balance and flexibility training, isolated muscle activation, and dynamic multi-joint exercises, but only when appropriate and dictated by your physician. Clinical diagnosis and treatment by your physician is necessary and will guide your trainer as to what type of exercise will be effective in strengthening your affected joint and supporting structures above and below the joint.
Cardio recommendations: Cardio exercise will be dictated by pain. Non weight bearing exercise such as treading water or walking in waist or chest deep water has been shown to be effective. However, even the lowest intensity cardio exercise may be affected by pain until corrective exercise has had a chance to improve muscle balance and joint mechanics or treatment by physician is provided. Your physician will guide your trainer for cardio recommendations.
Flexibility recommendations: Flexibility of tight muscles and strengthening weak or over stretched musculature is critical. Movement assessments and your physician will dictate exercises appropriate for implementation by your trainer.
Exercise Contraindications: Avoid any exercise that causes pain. This is not an injury or issue that you can just "work through." Trying to work through this problem without the guidance of your physician may cause further degeneration and eventual misalignment of the knee or patellofemoral joint.
If you have lower back pain, and have been told by your doctor it is due to arthritis, stretching and strengthening the hip girdle muscles and performing core strengthening exercises should be very helpful. However, if any of these exercises are painful, stop immediately. Do not exercise "through the pain." Talk to your doctor.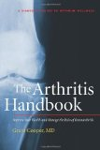 The best forms of exercise will be core exercise such as planks and bridges. Try to avoid and flexion or extension of the spine as this will place undue stress on your back. Also, work on active flexibility to keep your body loose.
Prior to completing any form of exercise, you should get clearance from your physician. Not having clearance may be detrimental to your health.
If you're among the majority of Americans who are overweight or obese, slimming down can significantly slow the progression and ease the pain of joint degeneration. In fact, according to the Arthritis Advisor, you can reduce knee stress by 40 to 80 pounds with a mere 10-pound weight loss. That may sound like a lot, but it's estimated that the knee actually supports four times the body weight when you're walking, so a 10-pound loss can reduce the load at least fourfold. In addition, French researchers have linked the joint distortion caused by osteoarthritis to a hormone called leptin that's released by fat cells, and they have discovered that the higher the body mass index, the higher the concentration of leptin in the joints.
As an arthritis sufferer myself, I can say that while weight loss does not actually decrease symptoms, it does help with some of the joint pain. If you are carrying extra weight on your frame, it will add pressure to the joints themselves; however, for every 10 pounds lost you can eliminate up to 4 percent of pressure on your joints. I also advocate resistance training for arthritis sufferers as it increases the lean muscle mass. Even though muscle weighs more than fat, it actually "pulls it's own weight" whereas fat simply adds to the pressure. By adding lean muscle to your frame you not only decrease pressure on arthritic joints, but you also maintain healthy joint function.
http://www.fitorbit.com/trainers/MichelleCarlson
Arthritis and gout are most often associated with articulating joints like the big toe, the ankle, knee, etc. If the patient has persistent heel pain on the bottom of the heel and foot, the most likely culprit would be pain associated with plantar fasciitis, a heel spur or perhaps a stress fracture of the calcaneus (heel). X-rays and a bone scan can be used to rule these problems out and can be prescribed by a physician. Following diagnosis, treatment in the form of medication and exercise can be initiated to help. In any case, a physician's evaluation and diagnosis is the first step.
Exercise can reduce arthritis pain. Physical activity reduces arthritis pain and improves function and mobility. It will also boost energy and mood, and improve the ability to sleep well. When people exercise regularly, their overall quality of life is going to go up.
Think of physical activity as an arthritis pain reliever. In fact, one study has shown that walking can be just as effective at reducing knee pain as naproxen (Aleve) or ibuprofen (Advil, Motrin).

Exercise can significantly reduce arthritis pain in older women. Older people can improve their chances of staying pain-free from arthritis by exercising regularly, according to a study that looked at 8,750 Australian women in different age groups: 48 to 55 years and 72 to 79 years. The researchers stressed that findings showed that increased exercise led to less pain, as those who exercised 2 1/2 hours a week reported less discomfort from arthritis than those women who exercised one hour and 15 minutes.
Exercise can reduce the pain from arthritis, both in the short term and over time, as strength is developed. Watch as rheumatologist Natalie Azar, MD, discusses the factors to consider when choosing activities and why it's important to mix it up.
Continue Learning about Living With Arthritis