Because allergens are so important in causing asthma, the single most effective measure asthmatics can take is to reduce their exposure to allergens whenever possible. The most practical place to do this is in the home where the first goal should be to reduce dust levels in the bedroom. Many studies have demonstrated significant improvements in asthma after bedroom dust is removed. In fact, the bedroom should be as free as possible from all known and potential asthma triggers regardless of evidence of allergies.

The biggest mistake patients make is to assume it is acceptable to sleep with their cat, or to continue using a feather pillow because they were told that they were not allergic. Denial plays a heavy part in the failure to take sound measures to reduce home allergens. We hear excuses like "my cat never bothered me before" or "I slept with a feather pillow before I developed asthma." But prior exposure is the essence of allergic disease. It may take a long period of exposure to allergens to make someone allergic, but having lived for long periods without symptoms does not mean the allergens are not causing problems.

The same rules should be applied throughout the house. In addition, any source of indoor moisture can be a source of mold growth and should be eliminated. Mold spores can be effectively removed by regular ventilation and washing affected areas with household bleach.

Indoor humidity should be maintained at 50 percent or lower by using air conditioning and dehumidifiers. Sump pumps should be used in damp or flooded basements.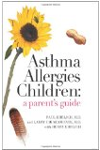 More About this Book
Asthma Allergies Children: A Parent's Guide
Asthma and allergies are at epidemic proportions. It doesn't have to be that way. Two experienced pediatric allergists tell everything a conscientious parent needs to know about these conditions,...
Continue Learning about Living With & Managing Allergies