Keep your bedroom allergen-free by following these steps:

Step 1. Pets -- Remove any furry or feathered animals from the bedroom, permanently. No pets should ever be in the bedroom, even when the patient is not there.

Step 2. Bedding -- Discard any feather (or down) pillows or quilts. Use hypoallergenic (polyester) pillows and washable blankets. Blankets should be washed immediately and often to keep them dust free.

Step 3. Heating and air-conditioning -- Forced-air ventilation is very bad for patients. Buy filter material (Vent-Gard or equivalent) and install in the bedroom air-inlet vent, so that all the air that enters the room is filtered. Wash or change this filter every month.

Step 4. Humidifiers -- Do not use humidifiers of any kind. Increased humidity increases the growth of dust mites and molds and will make you worse. The most effective way to keep your air passages comfortable during the night is to keep the bedroom very cold (55 - 60 degrees F).

Step 5. Plastic covers -- The bed must have plastic covers that completely encase any pillows, the mattress, and box spring. Do this even if the mattress and pillows are new.

Step 6. Rugs -- Remove any rugs and carpets. Rugs trap dust whether they are wool or synthetics. Hardwood or vinyl floors are preferable but a washable throw rug can be used. If it is impossible to remove carpeting, vigorous vacuuming must be performed daily.

Step 7. Vacuum cleaners -- Vacuum cleaners blow a lot of fine dust out the back. Purchase special allergen-proof vacuum cleaner bags. Special vacuum cleaners such as the Miele or Nilfisk work well, but are very expensive.

Step 8. HEPA air purifiers -- HEPA air purifiers are very useful when there are allergens floating in the air in your bedroom, such as pet dander, mold spores, or cigarette smoke, or if you have forced-air ventilation. They can run all the time, but only when the door and windows are closed.

Step 9. General clean up and other dust collectors -- Remove all upholstered furniture, drapes, old books and newspapers, and stuffed animals. Wooden or metal chairs and plain light curtains can be used. Clean the woodwork and floors to remove all traces of dust.

Step 10. Regular cleaning -- The room must be cleaned daily and given a thorough and complete cleaning once a week. Clean the floors, furniture, tops of doors, window frames, sills, etc. with a damp cloth. Air the room thoroughly but keep the door of this room closed as much as possible.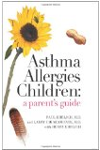 More About this Book
Asthma Allergies Children: A Parent's Guide
Asthma and allergies are at epidemic proportions. It doesn't have to be that way. Two experienced pediatric allergists tell everything a conscientious parent needs to know about these conditions,...
Continue Learning about Living With & Managing Allergies