As an advocate for your child and her attention deficit hyperactivity disorder (ADHD), you will be starting a synergistic cycle that transforms symptoms into talents -- or, at least, into lovable eccentricities. In a synergistic cycle, small changes work together to create larger changes. A small change in direction can begin a cycle that leads to more and more positive changes. The synergistic cycle is made up of the following factors:
As you advocate for your child, you feel empowered and maintain your positive view of her.
As you feel better about yourself and your child, your interactions with her are more loving and rewarding for both of you.
As your child feels loved and rewarded, she tries to show love through increased efforts at home and at school.
As your child tries harder at school, she begins to experience more positive feedback.
As she interacts with you in more loving ways, you find it easier to maintain your positive view and loving interactions.
Finally, you and your child have a loving, close, connected relationship in which you work together and are on each other's side.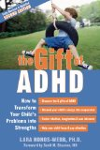 Continue Learning about Living With ADD/ADHD