From what I can determine, the successful CEO types who have attention deficit disorder (ADD) rose to their success through a combination of powerful emotional and intuitive skills and using their "hyperactivity" to overcome difficulties with organization and attending to details. Highly successful ADD adults have found ways to translate ADD's emotional sensitivity and impulsiveness into emotional intelligence, intuition, and boundless energy.
Managing hyperactivity
Different adults handle their hyperactivity differently. Whereas some naturally amp it up with class-clown antics, some ADD adults actually need to embrace their hyperactivity further. In my observation, this is more likely to be true for women with ADD who have learned to tame their hyperactivity, but it can also be true for men. If your hyperactivity was punished or rejected when you were a child, you may have developed strategies for denying it. Usually vestiges of it will still remain, however. One woman described a continuous need to fidget with the cap of her pen, often flicking it across the room. She acknowledged that she would like to be much more physically active throughout her day but didn't have the chance. Another woman (who experienced depression as well as ADD) described having a job that required her to sit still most of the day as torture. The toll the denial of her need for physical activity took was depression. Others may feed a need to be active by literally eating all of the time, which can then easily create secondary weight or health problems.
Another way to express your hyperactivity is to be more physically active while doing your regular activities. For example, plan romantic dates to involve hiking rather than long dinners. In my own case, I've structured my private practice so that I rarely schedule clients back to back. This allows me frequent and regular breaks to walk. If I'm doing phone coaching, I also stay active by pacing.
Spend time outside
If you have ADD your need for wildness may get you in trouble in your relationships and work. Feed your need for nature by planning outdoor adventures close to home. You can get a sense of nature's wildness just by going outside when it's dark and stormy.
If you have a habit you are trying to break, whether it's eating too much, excessive alcohol consumption, drug use, or some other addiction, use this activity as a substitute. When temptation strikes, plan a "walk on the wild side" or just scoot out the door and get moving. Many people with ADD develop drug and alcohol problems or other addictions to slow themselves down in an attempt to match the tempo and pace of other people. Outdoor activity fulfills many of the root causes of the addiction and will distract you from your cravings.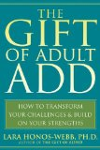 Continue Learning about Living With ADD/ADHD