Consider whether the school is a good match for your child with attention deficit hyperactivity disorder (ADHD). If a creative artist went to work as an accountant for a Fortune 500 company, we would all know that she was headed for trouble. Sometimes our children's learning style and profile of strengths and weaknesses mean that they need accommodations. Many children who are natural athletes or artists struggle with the demands of school for reasons that have nothing to do with a brain disorder. In fact, some people argue that the whole education system is broken; they would say that we are preparing our kids for the global digital age in schools that were designed to prepare them for life during the Industrial Revolution.

If your school options are limited, you might refocus your goals on getting your child through school unscathed rather than hoping she will become a model student. You can protect the child's passion and motivation by supporting her in areas in which she is gifted or in which she has passionate interest and engagement.

Consider that other students or the teacher might not be a good match for your child. It is possible that the match between your child and the teacher or other children is creating problems. As adults, most of us have experienced being miserable because of a bad boss or unpleasant coworkers. But we adults have supports and power to make choices to turn around these difficult situations. The problem is that when a child has a personality conflict with a teacher or other students, we are quick to assume that it is entirely the child's fault, or that maybe there is something wrong with her brain. Our first approach should be to listen to the child's complaints about a teacher or student. Bullying does happen, and it has long-term negative consequences. Ask your child how she sees the problem -- listen, and take it seriously.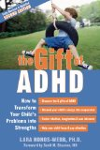 Continue Learning about Living With ADD/ADHD