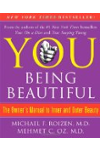 Almost every study of longevity indicates one secret that makes people healthier and happier: Helping others. Some research shows a 60 percent decrease in mortality figures among those who help others; they're aided by what's called the "helper's high."

Specifically, it's the dignity, the joy, the passion, and the purpose of helping others -- whether it's helping another person quit smoking, or building a person in need a home, or mentoring a child at school -- that have these beneficial effects.

Helping others inspires gratitude for what life has given you, and this is what really turbo-charges your happiness -- and helps you define your own purpose in life. After all, the real secret may be realizing that true peace isn't about being happy, giddy, and feeling like you're charged up on Red Bull all the time. It's about slowing down enough to realize that you have a lot of gifts -- gifts that you should be passing along to others.