Experts who have visited places that are designated as blue zones and who have interviewed people living there said the secrets to living long lives are not found in pills, vitamins or supplements.
National Geographic writer Dan Buettner compiled the nine commonly known tips from people in every known blue zone culture for his book about the blue zones. Those tips are:
Move naturally
Cut calories
Avoid eating processed foods and meat
Drink alcohol, red wine, in particular, in moderation
Keep your family first
Reduce your stress levels
Belong to a community
Maintain a positive outlook
Surround yourself with people who have the same kind of blue zone values as you have
In Sardinia, for instance, sheepherders spend a good deal of their time walking, and inhabitants frequently drink red wines that are rich in polyphenols, which are antioxidants that slow the aging process. Residents of Okinawa are known to drink mugwort sake, to remain active and to honor the elderly. Indeed, the majority of extended families either lives together or lives close by. On the Nicoya Peninsula, Costa Ricans make a living as farmers. They also drink large quantities of red wine. In the only blue zone in the United States -- Loma Linda, Calif. - a large population of Seventh-Day Adventists has developed a close community. They maintain strict diets and remain healthy, even though they live near the smoggy, densely populated city of Los Angeles.
Almost every study of longevity indicates one secret that makes people healthier and happier: Helping others. Some research shows a 60 percent decrease in mortality figures among those who help others; they're aided by what's called the "helper's high."
Specifically, it's the dignity, the joy, the passion, and the purpose of helping others -- whether it's helping another person quit smoking, or building a person in need a home, or mentoring a child at school -- that have these beneficial effects.
Helping others inspires gratitude for what life has given you, and this is what really turbo-charges your happiness -- and helps you define your own purpose in life. After all, the real secret may be realizing that true peace isn't about being happy, giddy, and feeling like you're charged up on Red Bull all the time. It's about slowing down enough to realize that you have a lot of gifts -- gifts that you should be passing along to others.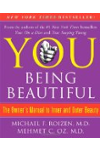 More About this Book
YOU: Being Beautiful: The Owner's Manual to Inner and Outer Beauty
Most people think that beauty revolves around such things as lipstick, sweet eyes, or skinny jeans -- all those things that we can see (and obsess over) in the mirror. But the fact is that beauty isn't some superficial pursuit, and it's not some random act that you can thank (or curse) your ancestors for.There are, in fact, scientific standards to beauty. Beauty is purposeful, because it's how humans have historically communicated who we are to potential mates. Beauty, in fact, is really about your health and happiness.In this groundbreaking book, Dr. Michael F. Roizen and Dr. Mehmet C. Oz bust the myths and stereotypes about the way we view ourselves -- and how we define beauty. In these pages, you'll find out why beauty isn't as much about your vanity as it is about your humanity. The doctors take a scientific, informative, and entertaining look at the three levels of beauty and explain how they all work together to form a complete and authentic YOU. Those three levels of beauty are:Looking Beautiful: Your appearance influences your self-esteem and has major health implications. Here, the docs will tell you how you can look the way you want.Feeling Beautiful: So what if you have luscious lips or gorgeous locks if your joints creak and you have the energy of a rug? The docs will tell you how to improve your energy levels, beat back your life-altering aches and pains, and come to grips with some of life's toughest stresses.Being Beautiful: By improving your relationships with your loved ones as well as with others, you'll be well on your way to finding true happiness. That's the ultimate goal: Having all three levels of beauty working together so you can have a happy and healthy life.You'll start off by taking the ultra-revealing and validated YOU-Q Test to help you assess where you are on your own beauty scale and where you want to be. Take the test, see how well you do; then use the book to help you improve your score.With their usual candor and honesty, Dr. Roizen and Dr. Oz break down the mechanics of beauty and explain how little adjustments in your routine can help you become a happier, healthier person. You will learn about the biology of beauty, take YOU Tests to determine where you are on the beauty scale, get tons of YOU Tips to help you improve your life, as well as learn the secrets of the Ultimate Beautiful Day.From hair to toenails, Dr. Roizen and Dr. Oz go through every part of your body to explain how different foods, vitamins, creams, gels, and injections can really boost your looks. They scrutinize the beauty myths that bombard us every day and offer an unbiased perspective on which ones cause more harm than good. You will be able to revamp your beauty regimen (or start a new one from scratch). They'll also take a close look at chronic pain, mood swings, low energy, and financial stresses. And they'll dive into the science of building relationships, finding happiness, and using spirituality to help you define your own levels of true beauty.Dr. Roizen and Dr. Oz act as tour guides navigating the tricky but exciting terrain of today's beauty industry. YOU: Being Beautiful is your all-inclusive ticket into the world -- the real world -- of beauty.
Continue Learning about 100 Days to 100 Years