Lunges work most of the muscles in your legs including your quads, hamstrings, glutes, and calves. Start with both feet flat on the floor shoulder-width apart, your back straight, and your core engaged. Take a giant step forward with your right leg, keeping the front knee and back knee at 90-degree angles. Your toes and knees should be pointing straight to the front. The back leg will bend, almost reaching the floor. Hold the position for a few seconds.

Make sure not to extend your front knee past your toes because that puts a lot of stress on the joint. To keep your balance, you will have to push your weight into the heels and not the toes. Push your body back up to the starting position through your front heel. Repeat with your left leg forward. Start with ten lunges on each leg, rest for 20 seconds, and repeat.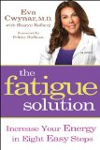 There are many different variations of lunges that can performed. Let's focus on the forward lunge here. To properly perform a forward lunge, begin standing up nice and tall with your feet slightly apart. Hands can be resting on your hips, or down by your side. Take a big step forward, keeping your upper body straight as much as possible. Make sure that you knee stays inline with your front foot and does not come forward over your toes. When the thigh of your front leg is parallel to the floor, push through the heel of your front foot and return to the start position.

Tip: A bigger step forward will engage more of your glutes. A smaller step forward will engage more of the quadriceps.

To make the forward lunge more challenging, hold a pair of dumbbells in each hand.
Stand with your feet shoulder-width apart with your hands on your hips. Take a long step forward with your right foot. Bend your right knee so that your thigh is parallel to the floor (f you have knee pain, make sure that your knee does not extend further than your foot when you're lunging). Pause, then step back into the standing position. Repeat, by stepping forward with your left foot. Breathe in when you lunge forward; breathe out when you step back. Hold dumbbells if 12 reps are too easy, or start holding them as you get stronger.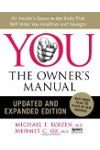 To strengthen the muscles of your thighs and buttock you can do stationary lunges, using free weights. Primary muscle groups worked: Quadriceps (front of thigh), hamstrings (back of thigh), and gluteal (buttocks) muscles.
Starting position: Stand with the feet a natural width apart, with one foot in front of the other and both feet pointing directly forward. Your weight should be centered between both legs. As you get stronger leg muscles, grab equal sized weights in each hand.
Action: Keeping focus forward and spine erect, bend both knees and lower your back knee toward the floor, allowing the back heel to lift off the floor. Stop when your back knee is an inch or two from the floor and your front thigh is parallel to the floor and bent at a 90-degree angle. Keeping your weight centered, press back up to the starting position. Repeat until you complete the set. Then, repeat on the opposite side.
Tips:
Don't allow your front knee to extend forward past your toes. Drop your weight straight down toward the floor, not forward.
Keep both feet pointing forward (the tendency is to angle the back foot slightly out to the side).
Lunges are a great leg exercise which can be performed safely and easily. Follow these steps to perform lunges:
Begin with both feet shoulders-width apart.
Step and Lunge forward, come to a stabilized position with front foot pointing straight ahead and front knee directly over second and third toes.
Both knees should be bent at a 90-degree angle. The front foot should be flat on the ground, and back foot should have the heel lifted off the ground.
From this position, drive off of front foot and back into a standing position.
Perform 3 sets of 8-12 reps for optimal results
The lunge is a warm-up exercise that can easily be performed before any kind of exercise. Here's how:
Stand with your feet together.
Hug one of your knees to your chest and then release your leg.
Lunge onto that knee while trying to keep your knee above your ankle and not in front of it.
Bring your back leg forward until you are standing again.
Repeat ten times, and progress forward.
Perform with the opposite leg.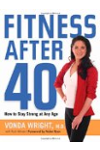 More About this Book
Fitness After 40: How to Stay Strong at Any Age
It's one of the undeniable facts of life. After we reach a certain age, our bodies change. No matter how fit we may have been at 20, we're very different people after 40. But growing older doesn't...
Continue Learning about Leg Exercises