The area between where the bottom of the vaginal opening and the anus is called the perineum. It is sensitive to both light touch (like stroking) and deep pressure (like massage). The perineum is sensitive to deep pressure because of its proximity to sensitive internal organs. Its sensitivity is about the same as the tissue immediately adjacent to the clitoris.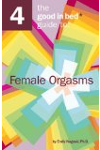 More About this Book
The Good in Bed Guide to Female Orgasms
Want to learn how to achieve 487 different kinds of orgasms?If so, you're reading the wrong guidebook. Despite what many in the media would have you believe, there's no such thing as a rainbow...
Continue Learning about Labor, Delivery & Post Period Of Pregnancy