Antistreptolysin O is a type of protein called an antibody. It is formed when a person has been infected with Group A Streptococcus bacteria. The most common problem caused by this germ is Strep throat.
A blood sample is needed for the ASO test. The normal value is somewhat different in each laboratory. In general, a level of 200 or higher for an adult is considered abnormal. For children in the 5 to 12 age range, the normal value may be higher.
Your daughter clearly has an elevated level of ASO. Most likely she has had a Strep throat within the last few months. She might not have had any symptoms, but her immune system could still trigger the production of antibodies. The ASO level can stay elevated long after the infection is gone.
The next step depends on why the test was done. If the test was ordered because of some other concern such as joint pain, fever or red blood cells in her urine, then other diagnoses need to be considered, including:
Group A Strep infection somewhere else in her body; usually this is obvious
Rheumatic fever, a complication of Group A Strep infection that causes rash, joint pain, fever and other problems. It is extremely rare in developed countries.
Glomerulonephritis, an inflammation of the kidneys.
If she feels well and has had no symptoms such as recent sore throat, there is no right answer as to what, if anything, should be done. I would perform a throat culture. If it is positive for Group A Strep, I would treat her with antibiotics.
If the throat culture is negative, I would have her repeat the ASO blood test in two to three weeks. This helps determine when the infection occurred. If the repeat ASO blood level is higher than the first, the Strep infection was probably recent. I would recommend treatment with antibiotics. However, if the ASO result is falling, the infection was probably quite a while ago. In this situation, the value of antibiotics is questionable.
Continue Learning about Lab Tests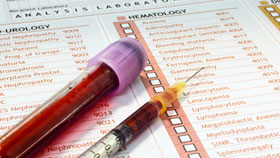 Lab tests are performed to check the health of a patient. Blood, urine and other substances are performed to diagnose, treat or prevent the onset of conditions and diseases.