What is an ALT measurement?
An ALT measurement is a blood test that detects the amount of the enzyme alanine aminotransferase (ALT) in your blood. ALT is found mostly in liver cells. High levels of ALT in the blood may indicate liver damage. When liver cells are injured, they release this enzyme into the blood. A high ALT measurement may also be an indication of a liver disease, such as cirrhosis or hepatitis.
Your doctor may order an ALT measurement test if you are experiencing certain symptoms associated with liver disease including:
extreme fatigue
jaundice (yellowing of the skin and whites of the eyes)
loss of appetite
abdominal swelling or pain
dark urine
light colored bowel movements
itching
Continue Learning about Lab Tests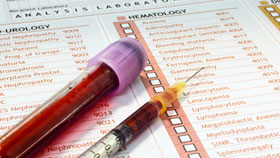 Lab tests are performed to check the health of a patient. Blood, urine and other substances are performed to diagnose, treat or prevent the onset of conditions and diseases.