After your blood sample is taken, the person who took your blood will write your name on the bottle. Scientists analyze your blood sample in the laboratory and send the results to your doctor. Your doctor will explain the results of your blood test to you. Your body will make new blood to replace the blood taken for the test very quickly.
Continue Learning about Lab Tests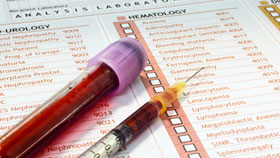 Lab tests are performed to check the health of a patient. Blood, urine and other substances are performed to diagnose, treat or prevent the onset of conditions and diseases.