Blood urea nitrogen, also called BUN, is a waste product in the blood from the breakdown of protein. The kidneys filter blood to remove urea, which then leaves the body in the urine. As kidney function decreases, BUN levels increase.
Continue Learning about Lab Tests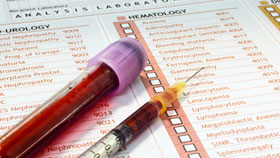 Lab tests are performed to check the health of a patient. Blood, urine and other substances are performed to diagnose, treat or prevent the onset of conditions and diseases.