To make having blood drawn easier on your child, try the following:
distraction, paying attention to something else
deep breathing or blowing bubbles
visualization
comfort position with caregiver
This content originally appeared on the Alliance for Kids website.
Continue Learning about Lab Tests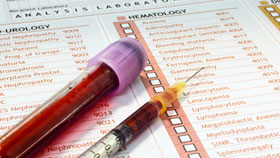 Lab tests are performed to check the health of a patient. Blood, urine and other substances are performed to diagnose, treat or prevent the onset of conditions and diseases.