Red blood cells carry oxygen to tissues and cells. Normal percentage of red blood cells is 36-40% (Hematocrit). Chronic illness frequently causes the bone marrow to slow down production of red cells, causing anemia. At times the percentage of red cells can be as low as 20% and this will frequently require a blood transfusion. If the red cells are low, around 28-30%, you may be given an injection of Epogen to increase red cell production.
Continue Learning about Lab Tests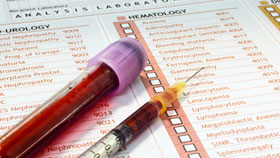 Lab tests are performed to check the health of a patient. Blood, urine and other substances are performed to diagnose, treat or prevent the onset of conditions and diseases.