What is recovery like from knee replacement surgery?
The recovery period for knee replacement surgery is around two days, and it's recommended to go to outpatient therapy as soon as possible, suggests David Miller, MD, of John Randolph Medical Center. Watch this video to learn more.
Complete recovery from knee surgery can take as long as one year. Learn more from Julia Saddington, PA from John Randolph Medical Center, in this video.
After a total knee replacement, healthcare professionals expect patients to be on their feet the next day. In this video, James Duke, MD of Ocala Regional Medical Center explains the recovery of knee replacement surgery, including physical therapy.
Your rehabilitation begins immediately after joint replacement surgery. Grasp the overhead bar to shift around in bed and relieve pressure on your skin. Perform exercises as prescribed by your physical therapist. Before you actively bend a knee replacement, your knee is placed in a continuous passive motion (CPM) machine to bend and straighten it by a programmed (and gradually increasing) amount. Use of the CPM device supplements but can't replace your participation in physical therapy.

By the day after surgery, a nurse or physical therapist helps you get out of bed and use crutches or a walker to move to a nearby chair. If you had hip replacement, an abduction pillow between your legs keeps your hips in a safe position while you sit; the first few nights, your leg may be returned to the sling. To prevent your hip from dislocating before the ligaments heal enough to stabilize the area, you must avoid specific movements in the hospital and for several weeks at home.

Before you can safely go home, you are usually expected to be able to perform the following: get into and out of bed, walk with crutches or a walker, go up and down a curb and the number of steps you must negotiate at home, perform your rehab exercises, and show you can do necessary tasks with little or no assistance (and, after hip replacement, without violating your hip precautions). If you had knee replacement, you should be able to straighten your knee and bend it 90 degrees. Depending on individual circumstances, these requirements may be altered. If you are medically cleared for discharge but not able to do these things, or if you need extra nursing care or have no assistance at home, you are discharged to a rehabilitation center. Many people who live alone choose this option.
Continue Learning about Knee Replacement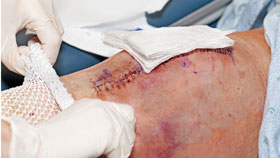 Painful knees are a common problem - often the result of wear-and-tear from sports injuries or obesity, which leads to a degenerative form of arthritis called osteoarthritis. Pain relievers and other treatments can help. When knee ...
damage is severe, a total knee replacement can relieve the pain and allow you to be more active again. Learn more about knee replacement surgery from out experts.
More