In addition to your knee replacement surgery, a few other things may take place in the operating room:
The anesthesiologist may perform a regional block or place an epidural.
Your doctor may insert a small flexible tube (called a Foley catheter) into your bladder to drain urine.
Your doctor may insert a drain to remove fluid near your incision.
Soft, mechanical pump devices may be placed around your feet or lower legs. These will help reduce the risk of blood clots forming in your legs.
Continue Learning about Knee Replacement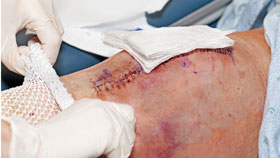 Painful knees are a common problem - often the result of wear-and-tear from sports injuries or obesity, which leads to a degenerative form of arthritis called osteoarthritis. Pain relievers and other treatments can help. When knee ...
damage is severe, a total knee replacement can relieve the pain and allow you to be more active again. Learn more about knee replacement surgery from out experts.
More