After knee replacement surgery, you will have swelling and redness around your knee incision. There should be no drainage from the incision after the first day.
Your knee replacement surgery incision will be closed with a suture that is beneath the skin and covered with steri-strips. Some surgeons use staples. It will be wrapped in a bulky dressing. You may have an ice pack put over it to reduce swelling. You may also have a drain to remove fluids from your incision. While you're in the hospital, a nurse will check your incision every day.
In most cases, the incision used in knee replacement surgery is a straight midline incision over the front of the knee. Doctors can usually close the incision with dissolvable sutures that are below the skin. These do not need to be removed. The incision is then covered with small pieces of tape called Steri-Strips. These pieces of tape fall off with time, usually around two weeks after surgery. Rarely, the skin has to be closed with metal staples. These are usually removed in the clinic at the two-week visit.
Watch orthopedic surgeon Umesh Bhagia, MD, from West Hills Hospital & Medical Center explain the location, size and closure technique of an incision for minimally invasive knee replacement surgery.
In this video Paul Toogood, MD, an orthopedic surgeon at Regional Medical Center of San Jose, explains what to expect in the first couple of weeks following knee replacement surgery, along with the techniques used to close the incision.
Continue Learning about Knee Replacement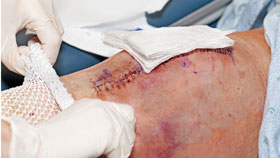 Painful knees are a common problem - often the result of wear-and-tear from sports injuries or obesity, which leads to a degenerative form of arthritis called osteoarthritis. Pain relievers and other treatments can help. When knee ...
damage is severe, a total knee replacement can relieve the pain and allow you to be more active again. Learn more about knee replacement surgery from out experts.
More