While you're in the hospital after knee replacement surgery, your goal is to build your strength enough that you'll be able to continue your recovery outside of the hospital. You'll do this by increasing your activity a little every day. Your health care providers will help you when you need it.
On Day 1 after surgery:
Your doctors will visit daily to monitor your progress.
Your nurses will regularly check your vital signs, how much you drink, and how much you eat. They will also monitor drainage from your incision, increased pain and swelling, and how your legs and toes feel.
Your nurses will ask if you are passing gas or if you have had a bowel movement.
A sample of your blood will be taken to check your red blood cell count and to make sure your blood thinning medication is working properly.
You will have physical therapy.
You will have your first group physical therapy session and learn the exercises that your doctor has prescribed for you. Your recovery coach is encouraged to attend as many group therapy sessions as possible.
With help, you will walk to the dining area for lunch and dinner.
On Day 2 after surgery, you will continue with the activities from Day 1, plus:
The doctor may remove the dressing on your knee and place a smaller dressing over your incision. If you have a wound drain, it may also be removed.
If you have a Foley catheter, it will most likely be removed.
You may continue to wear elastic stockings or wraps on your legs to help circulation and prevent blood clots.
You will continue to eat and drink as you are able. If you are eating and drinking well, you may stop receiving fluids through your IV (intravenous) line.
You will have physical therapy: You will have two group physical therapy sessions. You will take pain medication about 30 to 60 minutes before your physical therapy. You should start trying to do as much as possible for yourself. With help from the nursing staff and your walker, you will continue to walk to the bathroom, to meals in the dining area, and in the hallway.
If your doctor feels you are ready to leave the hospital, you will be transferred to a rehabilitation facility or discharged to your home.
Continue Learning about Knee Replacement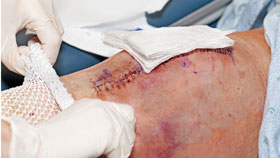 Painful knees are a common problem - often the result of wear-and-tear from sports injuries or obesity, which leads to a degenerative form of arthritis called osteoarthritis. Pain relievers and other treatments can help. When knee ...
damage is severe, a total knee replacement can relieve the pain and allow you to be more active again. Learn more about knee replacement surgery from out experts.
More