What should I bring to the hospital for my knee replacement surgery?
Orthopedic surgeon Umesh Bhagia, MD explains what to do in the days before knee replacement surgery and what to pack for the hospital stay. Watch this video with the staff from West Hills Hospital & Medical Center.
Here is a list of what to bring to the hospital for your knee replacement surgery:
A list of any questions or new concerns you want to discuss with your surgeon and your anesthesia provider, also a list of your home prescription medications.
A friend who can stay with you until the time of surgery
A pair of slippers with non-skid soles
A pair of flat shoes with non-skid soles to wear during physical therapy
Loose, light-weight clothing, such as T-shirts and shorts or sweatpants
Pajamas and a robe
Underwear
Personal care items such as a toothbrush and deodorant
Continue Learning about Knee Replacement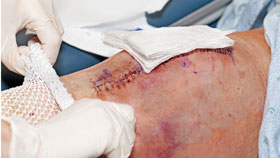 Painful knees are a common problem - often the result of wear-and-tear from sports injuries or obesity, which leads to a degenerative form of arthritis called osteoarthritis. Pain relievers and other treatments can help. When knee ...
damage is severe, a total knee replacement can relieve the pain and allow you to be more active again. Learn more about knee replacement surgery from out experts.
More