In a knee replacement, doctors resurface the ends of bones and attach artificial joint surfaces, or prostheses, that can move together without causing pain. The ends of the femur, or thigh bone, and top of the tibia, or shin bone, are resurfaced, and the prostheses are attached permanently. Healing and physical therapy can take months. Knee replacement is usually done in older people, but it can be done in younger people in cases where the joint is damaged to the point that a total replacement is the only option.
Continue Learning about Knee Replacement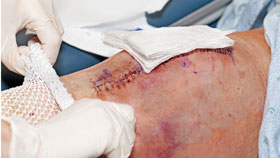 Painful knees are a common problem - often the result of wear-and-tear from sports injuries or obesity, which leads to a degenerative form of arthritis called osteoarthritis. Pain relievers and other treatments can help. When knee ...
damage is severe, a total knee replacement can relieve the pain and allow you to be more active again. Learn more about knee replacement surgery from out experts.
More