Can I ski after knee replacement?
Happily YES. You must, however, thoroughly rehab your buttocks, core, quad, hamstrings and work hard in therapy to regain all your joint range of motion.
Most Orthopaedic surgeon encourage their active patients to remain as active as possible after joint replacement.
Continue Learning about Knee Replacement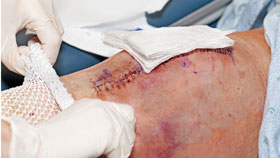 Painful knees are a common problem - often the result of wear-and-tear from sports injuries or obesity, which leads to a degenerative form of arthritis called osteoarthritis. Pain relievers and other treatments can help. When knee ...
damage is severe, a total knee replacement can relieve the pain and allow you to be more active again. Learn more about knee replacement surgery from out experts.
More