Total knee replacement surgery takes about two hours and afterwards a patient is sent to a recovery room for the anesthesia to wear off. Once awake, the patient will be transported to a hospital room. As soon as the residual effects of the anesthesia have subsided, a physical therapist will start working with the patient. Simple exercises will assist the leg to recover strength in its muscles and to begin the healing process. It's critical to start moving the foot and ankle immediately after surgery to reduce swelling and to prevent clotting. A continuous passive motion machine-a device that actually moves the leg to keep it from remaining motionless-may be connected to the patient's leg.
Within 24 hours of surgery and under direct supervision, a patient will attempt to stand. The patient may be able to walk a few feet with assistance from a walker in another day. Blood clot formation is a possible complication following surgery and blood thinners may be prescribed. A patient may also need to wear a special type of support hose to aid circulation. Another option to minimize risks from the formation of blood clots is compression boots. These boots are worn by the patient and they automatically inflate around the leg, stimulating circulation in the leg.
The typical hospital stay for a patient who goes through surgery for a total knee replacement ranges from three days to one week. The time spent in the hospital will be adjusted to the individual and his or her rate of recovery. When it is time to go home, the bandages and stitches will probably be gone.
Over the course of the following weeks, the patient should be cautious of physical activity, get plenty of rest and diligently exercise as directed by the physical therapist. Approximately six weeks later, the patient can anticipate walking with the assistance of a cane. Driving may resume about eight weeks following surgery.
Continue Learning about Knee Replacement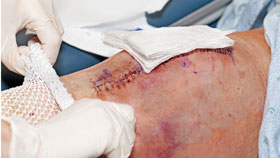 Painful knees are a common problem - often the result of wear-and-tear from sports injuries or obesity, which leads to a degenerative form of arthritis called osteoarthritis. Pain relievers and other treatments can help. When knee ...
damage is severe, a total knee replacement can relieve the pain and allow you to be more active again. Learn more about knee replacement surgery from out experts.
More