Most exercises are perfectly acceptable after knee replacement. However, you should avoid high-impact aerobic exercises that involve repetitive motions, as this may affect how long your new joint lasts.
Charles Stewart, MD discusses exercises to try and avoid after a knee replacement surgery in this video.
After knee replacement surgery, a physical therapist will instruct patients on continuing therapy and exercise. Learn more from Charles Rush, MD in this video.
In this video, Mohit Bansal, MD from Largo Medical Center discusses the exercises that are best tolerated after knee surgery.
Besides running, most activities are encouraged after knee surgery. Jeffrey Silverstein, MD speaks on these and more in this video.
Whether or not to exercise after knee surgery depends on the type of knee surgery a patient has had. Watch this video with Thomas Marks, MD from Parkland Medical Center to learn more.
Thomas Fleeter, MD from Reston Hospital Center offers his advice on what exercises to do after knee replacement surgery. Watch this video to learn more.
An orthopedic surgeon addresses two common questions patients have when considering knee replacement surgery. Watch this video with Umesh Bhagia, MD from West Hills Hospital & Medical Center.
Learn some activities to do after having knee surgery. Watch this video with David Cashen, MD from Blake Medical Center to hear what he recommends.
Discover the three main exercises Paul Toogood, MD, an orthopedic surgeon at Regional Medical Center of San Jose, recommends that his patients do following knee replacement surgery.
After surgery, you should work on muscle strength, joint range of motion and function, which will help you get back to daily living, says orthopedic surgeon Faisal Mirza, MD, of Good Samaritan Hospital. Learn more by watching this video.
The most important exercise to do after knee replacement surgery are range-of-motion exercises. Aim for at least 120 degrees of full extension with active range of motion. After that, you can begin resuming normal strengthening exercises.
Doing leg exercises will help you recover after total knee replacement surgery. Because they strengthen the muscles that support your knee, they can also prevent knee damage. Do the following exercises with both your legs exactly as your doctor instructs. Do the best you can without getting to the point of severe pain.
Heel slides
Lie on your back with your legs straight.
Slide your heel up toward your buttocks.
Return to starting position.
Quad sets
Lie or sit with your leg extended.
Tighten the quad muscles above your knee on the front of your thigh.
Try to push the back of your knee downward.
Hold this position for __ seconds.
Ankle pumps
Sit or lie down with your operated knee at 45 degrees.
Move your foot up and down as shown.
Leg raise
Lie on your back with your non-operated knee bent.
Keep your other leg straight and raise it up in line with the thigh of your bent leg.
Hold this position for __ seconds.
Return to the starting position.
Roll leg in and out
Lie on your back with your legs straight in front of you.
Rotate one leg at the hip so your toes point outward.
Return to starting position.
Heel raise and toe raises
Stand up using a counter for balance.
Raise up on your toes as high as you can. Return to starting position and repeat.
Next put your weight on your heels and raise your toes. Return to starting position and repeat.
Chair sit to stand
Stand holding onto a counter, with a chair behind you.
Lean forward slightly as you bend your knees and lower your buttocks toward the chair, as if you are going to sit down.
Before you touch the chair, stand up to full upright position.
Standing balance with stride
Stand with your feet together with one foot slightly in front of your other foot. Maintain your balance.
Repeat with the opposite foot in front.
Do this with:
open eyes
in a darkened room
closed eyes
Heel to toe walk
Start in a standing position.
Step placing one foot directly in front of your other foot.
Continue taking steps one foot in front of the other.
Forward lunge
Stand with feet together and then step forward, keeping your trunk vertical.
Push back up to your starting position.
Repeat the lunge with your other leg.
Exercises you can do after knee replacement surgery include:

Sitting knee bends: Sit in a chair with a towel under the operated knee. Straighten your knee as far as possible and hold for five seconds. Repeat 10 times. Gradually work up to 25 repetitions.

Standing knee bends: Hold on to a steady surface such as a table. Bend your operated knee back as far as it will go. Hold for five seconds, then lower the leg to the floor. Repeat 10 times. Gradually work up to 25 repetitions.
Physicians work with specific health care professionals following surgery. They have protocols in place for formal physical therapy and post therapy reconditioning. Results from joint replacements are getting better all the time and so being active is common. You should ask your doctor what phase of recovery you are in and what exercise limitations as well as recommendations he has for you in particular.
Continue Learning about Knee Replacement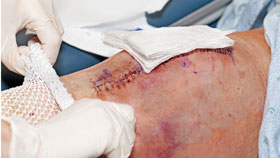 Painful knees are a common problem - often the result of wear-and-tear from sports injuries or obesity, which leads to a degenerative form of arthritis called osteoarthritis. Pain relievers and other treatments can help. When knee ...
damage is severe, a total knee replacement can relieve the pain and allow you to be more active again. Learn more about knee replacement surgery from out experts.
More