You can drive after knee replacement surgery if you have had a left knee replacement and you have stopped taking narcotics. If you have had surgery on your right knee, you should not drive for about four weeks. Most studies show that after knee replacement surgery people do not have normal reflexes, so if a child drove a bike in front of your car and you tried to jam on the brake, you may end up doing that too late. Some people don't follow this advice, but it's really important that you do.
Get permission from your surgeon before your drive after knee replacement surgery. You need enough range of motion and muscle strength to help prevent an accident. You also need fast reflexes, so you cannot be taking narcotic pain medication. Most patients are given permission to drive after four weeks.
Continue Learning about Knee Replacement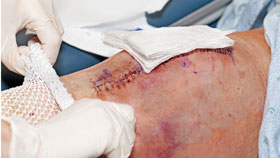 Painful knees are a common problem - often the result of wear-and-tear from sports injuries or obesity, which leads to a degenerative form of arthritis called osteoarthritis. Pain relievers and other treatments can help. When knee ...
damage is severe, a total knee replacement can relieve the pain and allow you to be more active again. Learn more about knee replacement surgery from out experts.
More