Read regularly with your child. There's no specific time that has greater benefits, but experts recommend spending some time every day reading together. Reading before bed may help them fall asleep, but any time that fits your schedule works.
Continue Learning about Children's Health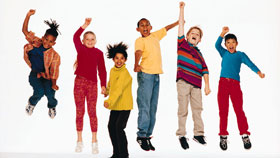 As a parent, you have questions about your kids' health. From common colds, lice, chickenpox and strep throat to eating disorders, obesity and learning disabilities, get the expert answers you need to raise a healthy child, tween, ...
or teen.
More