It is important for school-age children to see the doctor every year even if they are healthy. This allows for the opportunity to monitor growth and development and to provide any screening tests appropriate for the children's age, such as hearing, vision, blood pressure and any lab work they might need. It also allows the healthcare provider to catch any diseases or medical conditions early if they were to present in childhood. Annual visits are also important to keep track of children's immunization schedule to keep them protected from certain infectious diseases. Also, these visits can be a valuable time for the physician to check in with the family, educate on healthy lifestyle choices and answer any questions you may have about your children's health and development.
For school-age children, Eric Curcio, M.D., a general internist and pediatrician at UCLA Medical Center, Santa Monica, says, the annual visit is a time when the pediatrician can go through the child's records and make sure none of the vaccines or vaccine boosters have been missed. "It's also an opportunity to check hearing and vision, make sure they're developing well and pick up any learning disabilities," he notes.
Continue Learning about Children's Health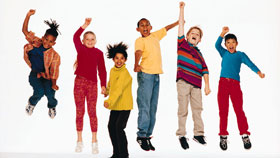 As a parent, you have questions about your kids' health. From common colds, lice, chickenpox and strep throat to eating disorders, obesity and learning disabilities, get the expert answers you need to raise a healthy child, tween, ...
or teen.
More