Children can effectively wash their hands by following these steps:
Wet the hands with clean, running water (warm or cold).
Turn off the tap and apply soap.
Lather the hands by rubbing them together with the soap, making sure to lather the backs of the hands, between the fingers and under the nails.
Scrub the hands for at least 20 seconds. Need a timer? Hum the "Happy Birthday" song from beginning to end twice.
Rinse the hands well under clean, running water.
Dry the hands using a clean towel or air dry them.
Continue Learning about Children's Health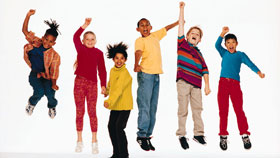 As a parent, you have questions about your kids' health. From common colds, lice, chickenpox and strep throat to eating disorders, obesity and learning disabilities, get the expert answers you need to raise a healthy child, tween, ...
or teen.
More