Multiple types of thermometers are available. Do not use glass thermometers, and, whenever possible, use an electronic (digital) thermometer.

Use a thermometer that is specifically designed for the type of temperature being taken. For example, do not use an oral thermometer to take a rectal temperature. Read the manufacturer's directions carefully so you know how to use the thermometer appropriately.

Always stay with a child while taking a temperature to make sure that the child does not move so the thermometer does not break or cause injury.

Continue Learning about Children's Health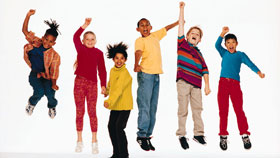 As a parent, you have questions about your kids' health. From common colds, lice, chickenpox and strep throat to eating disorders, obesity and learning disabilities, get the expert answers you need to raise a healthy child, tween, ...
or teen.
More