Dietitians and family doctors agree that parents should be more mindful of the sugar content in their kids' diet overall.

Sugary soft drinks are a top source of calories in children's diets and have been found to be big contributors to obesity. A can of soda can have 40 grams of sugar, which is like eating 10 teaspoons or 10 packets of sugar. Juices marketed for children often contain as much sugar as soft drinks, but many brands offer low-sugar options. Parents should read labels carefully.

Parents need to pay close attention to their children's diet at home and in restaurants to control sugar, especially if their kids are overweight and not very active. Fast-food restaurants should not be a regular choice for families, but more of an occasional thing.

The percentage of obese children age 6-11 years in the U.S. jumped from 7% in 1980 to nearly 18% in 2012, according to the U.S. Centers for Disease Control and Prevention (CDC). Meanwhile, the percentage of obese adolescents age 12-19 years increased from 5% to nearly 21% over the same time frame, says the CDC.

Up to one out of every five children in the U. S. is overweight or obese, and this number is continuing to rise. Overweight children are at higher risk of becoming overweight adolescents and adults, putting them at risk for developing chronic diseases such as heart disease and diabetes.
Continue Learning about Children's Health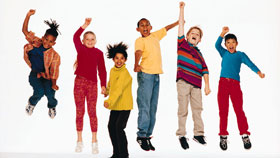 As a parent, you have questions about your kids' health. From common colds, lice, chickenpox and strep throat to eating disorders, obesity and learning disabilities, get the expert answers you need to raise a healthy child, tween, ...
or teen.
More