First, ask the nurse or doctor to apply numbing EMLA cream to the injection site about one hour before the needle stick. Other tips:
Explain the need for the needle in language your child will understand. You might say, "The doctors need to look at your blood so they'll know what medicines will work best," or "This shot will make you feel better."
Don't fib and say the needle won't hurt. Tell your child it will pinch or sting for just a second or two and then go away.
Distract your child with an iPod, stories, video games, or a coloring book so he's not obsessing over the needle stick.
If your youngster needs regular shots, make a reward chart and offer a sticker or other small treat every time your child cooperates.
If he's old enough, help your child feel that he can control some aspect of his situation, such as deciding which arm to have blood drawn from, or which day a test will be performed, or what treat he'll get for behaving well.
If your child needs regular shots and his anxiety level isn't diminishing, find a different staffer or doctor to administer the shots, or ask if there's a child life specialist or social worker who can help ease his nerves. Don't stick it to your child by staying stuck.
From The Smart Parent's Guide: Getting Your Kids Through Checkups, Illnesses, and Accidents by Jennifer Trachtenberg.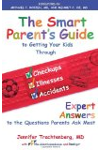 Continue Learning about Children's Health