Your pediatrician does many jobs, but in general you can expect the doctor to:
Monitor your child's growth and development
Diagnose, treat, and explain illnesses and treatments
Provide referrals to other specialists and work with them when needed
Help with a potpourri of other issues: exercise and nutrition, toilet training and bedwetting, learning disabilities, emotional and behavioral problems, and dealing with death, separation, and divorce, or any other major life changes that may affect your child.
Basically, you should view me (I'm standing in for your pediatrician here) as a partner whose main goal is to keep your child physically and mentally healthy.
From
The Smart Parent's Guide: Getting Your Kids Through Checkups, Illnesses, and Accidents
by Jennifer Trachtenberg.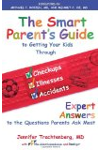 Continue Learning about Children's Health