No one knows your child better than you. If you suspect something is wrong, chances are you're right. Get help! Do know that your pediatrician may not be trained to spot early childhood depression so seek medical advice of a child psychologist or child psychiatrist who specializes in early childhood depression and anxiety. Call your county mental health, a pediatric hospital, a university facility that provides mental health services for young children, the American Psychological Association or American Academy of Pediatrics.

Early treatment is essential, but the best type of treatment is controversial. Many advocates are concerned that doctors are too quick too often in prescribing powerful psychiatric drugs. (Do beware anytime a doctor offers such drugs as the "magic cure.") There is little research on the effects of psychiatric medicine in very young children so therapy should be tried first. The conundrum? How to effectively treat very young children who have limited language and cognitive abilities.
If you think your child is depressed, and his or her behavior changes have lasted two weeks or more, you should reach out for support. Treating depression in children is a lot about getting them to open up and talk about what they're feeling. Support can come from a counselor at school or a psychotherapist in the community. Psychotherapy, or talk therapy is the standard treatment for depression. It involves a therapist talking with children to help them identify thoughts and feelings that are affecting their behaviors. If children can identify the cause of the depression, they can manage it. Once the therapist has helped an adolescent or teen manage thoughts and feelings, they're better able to do it themselves in the future.
Art therapy can be especially useful. Activities like drawing or coloring are soothing and therapeutic because the brain is focusing on one thing and stops thinking about the rest of the world. As a result, children are calm, clear thinking and more likely to express their feelings.
Parents can help by employing "play therapy." It involves getting the child active—taking them outside, going for a walk, or playing a board or video game—anything enjoyable that gets them moving. A lot of time adults think getting a kid active means going to the gym, running or another organized activity. But sometimes it's easier and better to just play. As long as you're with them having fun, they're just as excited to share with you the things they're doing and feeling. Getting children active can be difficult if they are on the more severe side of anxiety or depression. Parents should keep encouraging them and suggest they pick the activity. And especially for the parents, it's important to remember you're not alone in this.
If you think your child is depressed, you should seek professional help. In this video, Martin Buxton, MD, a psychiatrist at Chippenham & Johnston-Willis Hospitals, describes how depression is different from feeling sad or blue.
If you're worried that your child or teen has depression, here are a few tips:
Watch for symptoms of depression. For the most part, symptoms in kids are the same as those in adults. But in younger kids, you're more likely to notice behavior changes like bedwetting, tearfulness, or self-destructive actions (like head banging). Your child might complain about stomachaches or headaches, or say things like "I never do anything right." A teen might become overly secretive, sullen, or sleepy. These things don't always mean a child is depressed, but you should monitor them nevertheless. Severe or ongoing symptoms are a particular concern.
Check in with a doctor if you notice any mental, behavioral, or emotional changes that worry you. It's hard to tell the difference between growing pains and depression. So when in doubt, seek professional help. Depression is serious and highly treatable for children.
If your child is diagnosed with depression, learn as much as you can. Good information will help you make good decisions for your child's treatment. Should you see a specialist in childhood mental health? Should medication be part of treatment? When is the right time for therapy? What can you and your family do to help your child recover? Talk to your child's doctor.
Parents and caregivers should monitor depressed children carefully—especially in the first few months of treatment, and especially if medication is used. Children with depression need to be watched for irritability, agitation, or suicidal thinking or behavior.
Continue Learning about Children's Health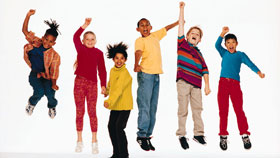 As a parent, you have questions about your kids' health. From common colds, lice, chickenpox and strep throat to eating disorders, obesity and learning disabilities, get the expert answers you need to raise a healthy child, tween, ...
or teen.
More